EDIT MAIN
Chronic Absenteeism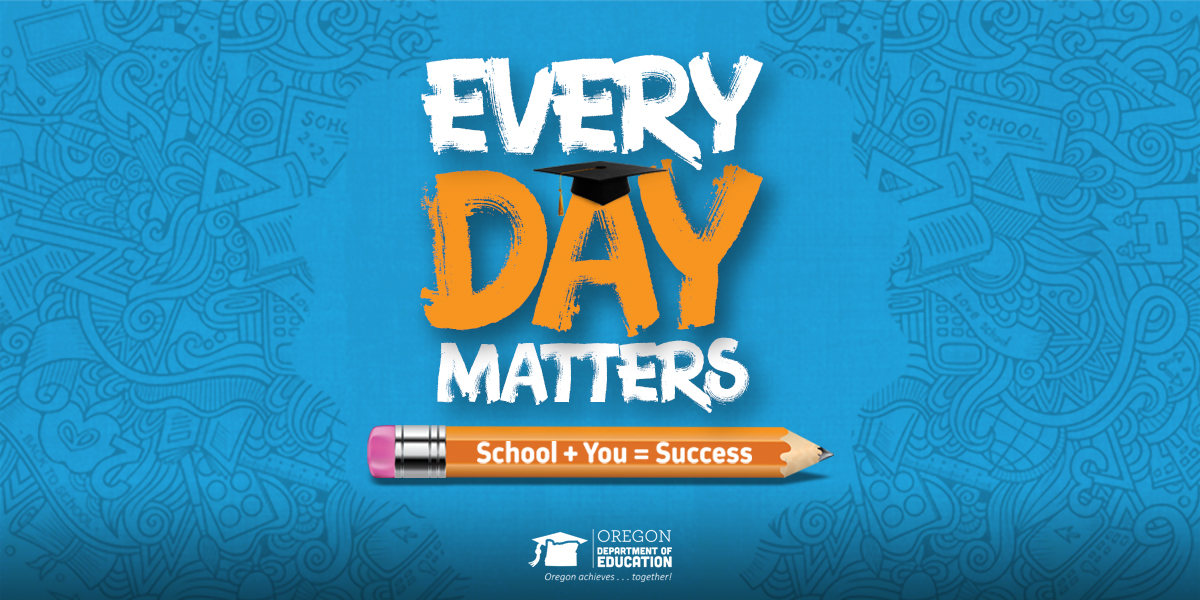 What is Chronic Absenteeism?
Chronic absenteeism—or missing at least 10 percent of school days in a school year for any reason, excused or unexcused—is a primary cause of low academic achievement and a powerful predictor of those students who may eventually drop out of school.
Why Attendance Matters!
The correlation between good attendance and being successful in school is very strong.
Missed days add up quickly. Even missing just two days a month can cause students to fall behind and disconnect. Students who regularly miss school can quickly feel hopeless, which makes it harder and harder for them to return to the classroom.
Chronic absenteeism reasons are understandable, but must be addressed. Troubleshooting the issues that are keeping students away from school can have an immediate positive effect on their attendance.
What are the root causes of Chronic Absenteeism?
Although the causes are varied and complex, absenteeism is typically symptomatic of a larger issue for students. Researchers Robert Belfanz and Vaughn Byrnes (2012) divide the reasons students miss school into four broad categories:
1) Barriers - Students who cannot attend school due to illness, family responsibilities, housing instability, lack of medical or dental care, poor transportation, trauma, the need to work or involvement with the juvenile justice system are absent because they are experiencing barriers or "Can't Go" to school.
2) Aversion - Students who will not attend school to avoid bullying, unsafe conditions, harassment and embarrassment - at times due to a lack of culturally responsive teaching, an unidentified disability, and ineffective discipline - are experiencing aversion or "Won't Go" to school.
3) Myths - Students who do not attend school because they, or their parents, do not see the value in being there, whose parents do not understand the importance of attendance in the early grades, have something else they would rather do or no one stops them from skipping school accrue absences that are supported by myths and they "Don't Go" to school.
4) Disengagement - Students who are disengaged from the school community, do not have a meaningful relationship with at least one adult in their school building, do not see relevance to their lives in the curriculum and do not go to school because it has failed to engage them.
A little bit about our region!
Across the state of Oregon, school districts are combining efforts to improve attendance by improving collection of and analyzing data, creating school cultures that create meaningful adult relationships, building community partnerships, and assisting to remove barriers to attendance for students, caregivers and families.
The definition of absenteeism is chronic absence from school. Principals, teachers and school staff know that when students are not in school, their learning is adversely impacted. Chronic absenteeism is defined by the Oregon Department of Education (ODE) as students missing 10% of more of the school year. Recently the ODE created an entire initiative to help Oregon's schools combat chronic absenteeism. The first step was hiring Chronic Absenteeism Coordinators, who will work in each region of the state with area school districts to improve attendance.
Chrissy Nelson is the coordinator for eastern Oregon. Based at the main IMESD office in Pendleton, she works with 26 districts to help reduce and prevent absenteeism. Chrissy partners with administrators, using data, tools and resources to build a program that works for their students and district.
What is the overall goal for the Chronic Absenteeism initiative? The State of Oregon's wants to reduce the chronic absenteeism rate and increase attendance. The state's current CAR (chronic absenteeism rate) is 20.5% and the goal is 17.8%. Eastern Oregon's average of 18.7% is just below the state average. To meet the State goal, 435 chronically absent students in Eastern Oregon need to become regular attenders.
Contact
Chrissy Nelson
Capacity Builder for Student Success
541-966-3136 chrissy.nelson@imesd.k12.or.us
School Administrators - Attendance ToolKits
IMESD's Program Battles Chronic Absenteeism (Columbia Basin News Article)
Progress in EO Being Noticed Throughout the State!
Our lowering rates of Chronic Absenteeism in Eastern Oregon are being noticed around the state!
Check out this article in the Bend Bulletin!
Release Date
Fri, 12/07/2018 - 12:00PM
Fall 2019
April 2019
March 2019
February 2019
January 2019
December 2018
November 2018
October 2018.
Chronic Absenteeism: Spotlight on Sunset Elementary
Chronic Absenteeism: Spotlight on Hawthorne Middle/High School
Chronic Absenteeism: Spotlight on Central Elementary - LGSD
Chronic Absenteeism: Spotlight on Highland Hills Elementary
Chronic Absenteeism: Spotlight on Union School District
Chronic Absenteeism: Spotlight on La Grande High School
Chronic Absenteeism: Spotlight on Gib Olinger Elementary of Milton Freewater
Chronic Absenteeism: Spotlight on Enterprise School District
Chronic Absenteeism: Spotlight on Hermiston School District
Chronic Absenteeism: Spotlight on Mac-Hi
CHECK OUT THE LATEST NEWS ON ABSENTEEISM!
The Regional CA Coordinator & Tribal Attendance Pilot Project (TAPP) Family Advocate Collaborate: Kids/Families Benefit
Chronic Absenteeism: Kinder Attendance
Chronic Absenteeism: Work the Juvenile Justice Online (JJO)
Chronic Absenteeism: Community Coming Together
Chronic Absenteeism: New Year New Attendance
Chronic Absenteeism: Absenteeism Rates Improving
Chronic Absenteeism: Winter Weather
Chronic Absenteeism: Bringing Attendance Home
Chronic Absenteeism: Attendance and Graduation
Chronic Absenteeism: Stop the Bullying
Chronic Absenteeism: Don't miss the Bus!
School Attendance & School Success 10/3/18