CHECK OUT THE LATEST NEWS ON ABSENTEEISM!
THE REGIONAL CA COORDINATOR & TRIBAL ATTENDANCE PILOT PROJECT (TAPP) FAMILY ADVOCATE COLLABORATE: KIDS/FAMILIES BENEFIT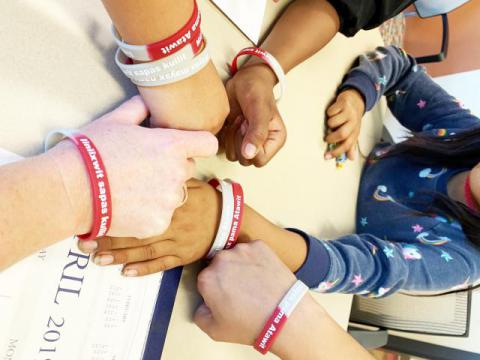 `Two initiatives came together to launch a joint effort to get kids to school more often and on a regular basis. Landon Braden (CA Coordinator) and Stacey Jacobs (TAPP Family Advocate) worked together to create wristbands to give to kids and staff at Washington Elementary in Pendleton. The message was simple "Every Day Matters" "You+School=Success". The two initiatives had the simple, yet effective message translated to the Umatilla language (Tamalúut) too. The district, Chronic Absenteeism, TAPP, and Staff at Washington Elementary are making their children a priority.
Release Date
Tue, 04/30/2019 - 12:00PM
CHRONIC ABSENTEEISM: KINDER ATTENDANCE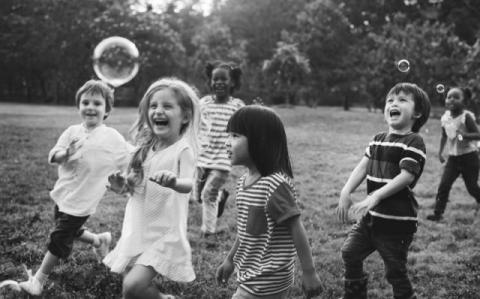 "The transition into kindergarten, whether from a preschool or from home, represents an important milestone in a family's life. This transition offers a unique opportunity for schools to establish attendance habits that promote long-term success in school."--AttendanceWorks.org
Here is a tool kitthat will help you lead your Kinder into attendance success!
Release Date
Fri, 04/12/2019 - 12:00PM
CHRONIC ABSENTEEISM: SPOTLIGHT ON JUVENILE JUSTICE ONLINE (JJO)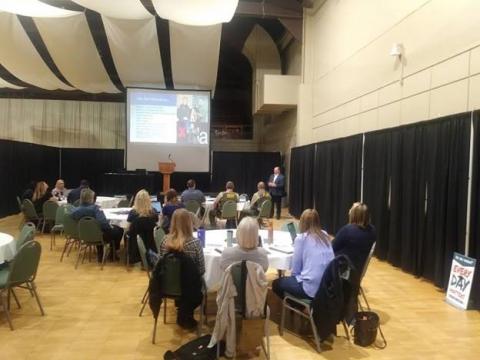 On March 22nd, community partners and schools came together to collaborate and working together on the implementation of a diversion program: Juvenile Justice online (JJO). The key to JJO is an approach which is based on educating and building relationships with youth/families when kids become or are on their way to becoming "truant". 30 Participants from 5 communities came together to learn about JJO, cyber bullying, sexting and how to best guide our kids through the possible dangers on using internet connected devices. Participants in this training were Judges, Juvenile Departments, Police Officers, School Admin, Counselors and C.A.R.E.
Release Date
Wed, 04/03/2019 - 12:00PM
CHRONIC ABSENTEEISM: COMMUNITY COMING TOGETHER

25 educators from 8 different school districts came together in Pendleton to learn about Chronic Absenteeism with the Regional Chronic Absenteeism Coordinator. Participants enjoyed breakout sessions discussing the unique needs of each district and how to work WITH parents/communities to improve attendance for specific demographics of students. Educators had the chance to digest current attendance data for each specific district in an effort to guide classroom efforts for the kids who need it most. Everyone left the workshop with classroom resources to assist in future attendance efforts.
Release Date
Thu, 02/28/2019 - 12:00PM
CHRONIC ABSENTEEISM: NEW YEAR NEW ATTENDANCE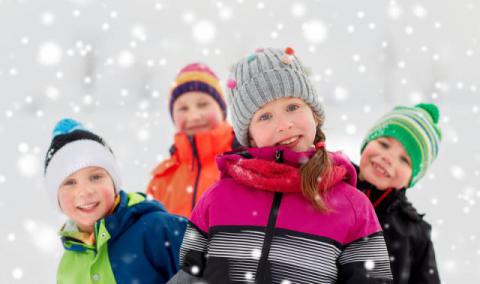 Start the new year off right by making an attendance pledge for the month of January! Students/families who track absences will have fewer missed school days overall. Use the attendance tracker below to improve your attendance for the new year!
Release Date
Wed, 01/02/2019 - 12:00PM
CHRONIC ABSENTEEISM: ABSENTEEISM RATES IMPROVING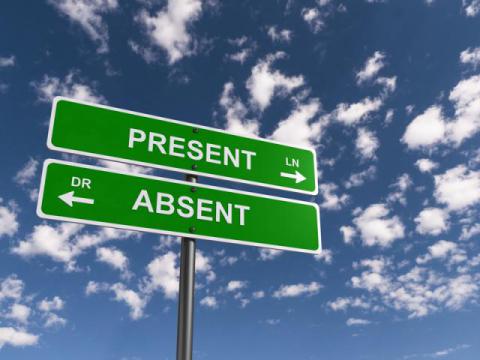 Check out the latest on Chronic Absenteeism Rates Improving! The La Grande Observer highlights Eastern Oregon Absenteeism, check out the article!
Release Date
Wed, 11/28/2018 - 12:00PM
CHRONIC ABSENTEEISM: WINTER WEATHER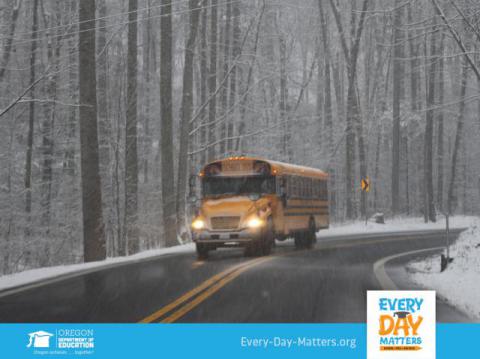 Brrr! Winter weather is just around the corner. Be prepared for those days when the roads are too slick for you to venture out. If buses can run safely, they will. If your child rides the bus, check the school district website for snow routes and status.
Release Date
Wed, 11/21/2018 - 12:00PM
CHRONIC ABSENTEEISM: BRINGING ATTENDANCE HOME
It takes a community effort to change attendance trends The earlier we start building good attendance habits the better This lowers the chances of a student becoming chronically absent later in their school career, increasing their chances of success and graduation!
Release Date
Thu, 11/15/2018 - 12:00 PM
CHRONIC ABSENTEEISM: STOP THE BULLYING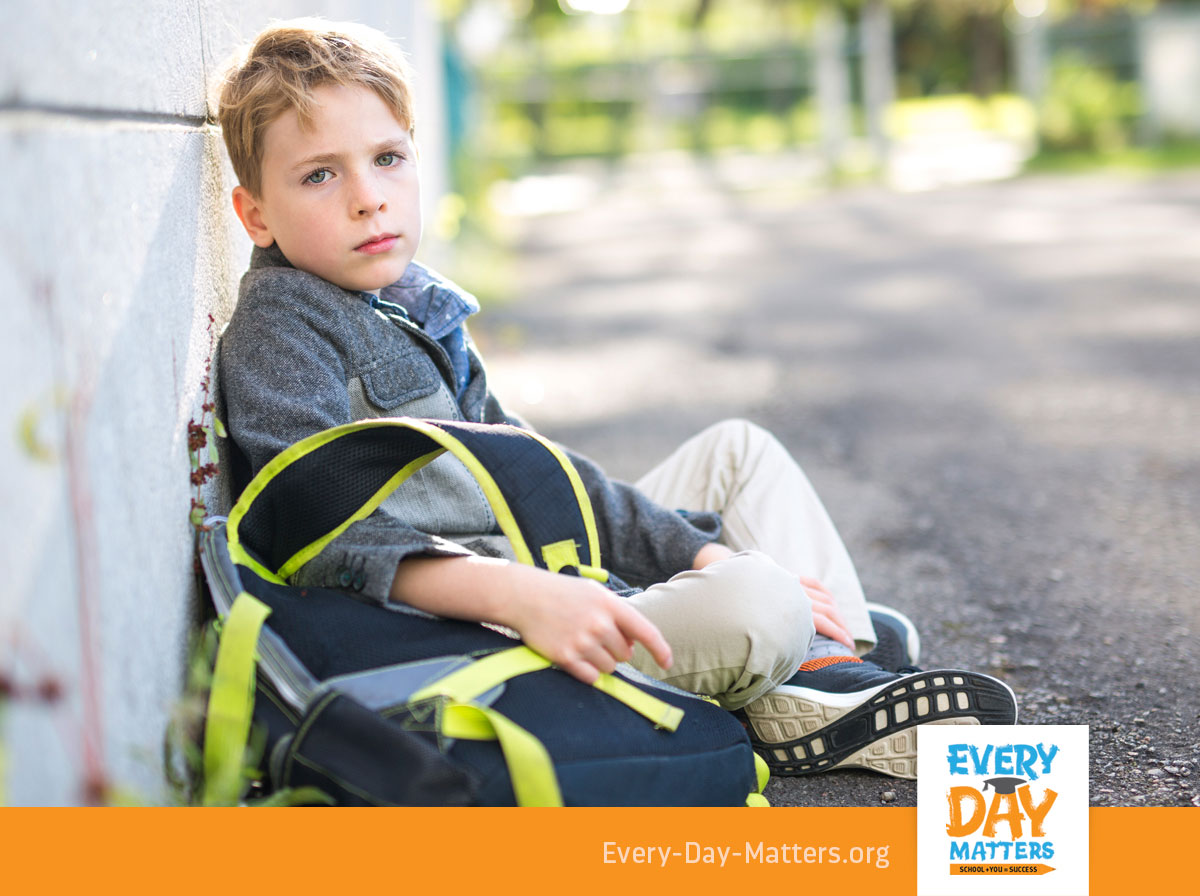 Bullying can lead to regular absences, not to mention trauma. If you suspect your child may be being bullied, it's important to check in with the school. Children often resist this, worrying that it will make things worse, but your child's safety is extremely important to us and we need to know. Learn more about bullying here: www.stopbullying.gov
#EveryDayMatters #Attendance
Release Date
Fri, 10/19/2018 - 12:00 PM
CHRONIC ABSENTEEISM: DON'T MISS THE BUS!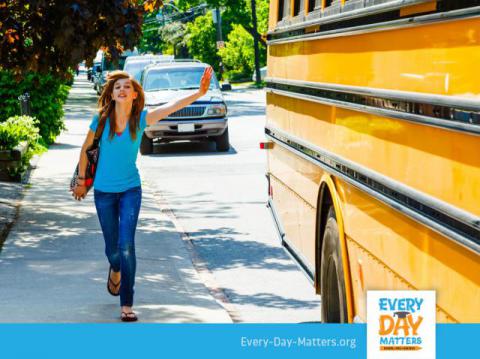 The school bus is the only transportation option for some families.
So, what happens if you miss the bus?
Find out more about your back-up options so that you can get those kids to school even if you missed that ride! Call or email your school for ideas and tips.
Release Date
Wed, 10/10/2018 - 12:00 PM
SCHOOL ATTENDANCE & SCHOOL SUCCESS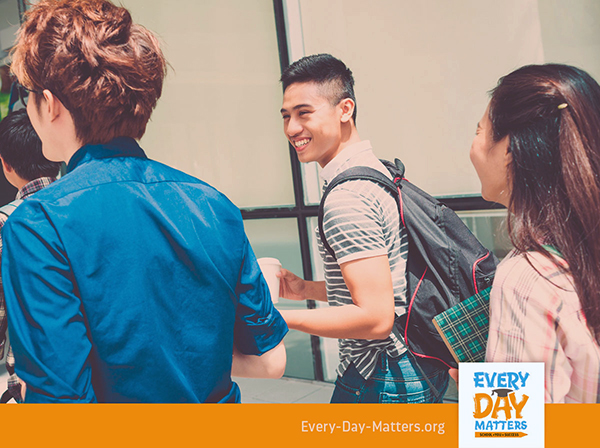 Did you know there's a really close connection between school attendance and school success?
Students who miss more than 18 school days (it doesn't matter whether they're excused or unexcused) are much more likely to struggle in school and even have more trouble graduating. It makes sense because every day builds on the one before, making it easy to fall behind.
Get tips on how to improve your child's attendance at EveryDayMatters.