CHILDREN'S RODEO - ABOUT US
The Pendleton Round-Up is best known for its heart-pounding rodeo and the professional cowboys and cowgirls who compete in it, but there's another event in the arena that's changing the lives of its participants. The Children's Rodeo offers children with special needs the opportunity to be cowboys and cowgirls for an hour of fun inside the famous Round-Up Arena.
The Children's Rodeo (formerly known as the Exceptional Rodeo) was founded in 1984, by Larry Rew, the liaison for the Round-Up Association, and Ernest Cristler from the former Umatilla-Morrow Education Service District. Currently, the Children's Rodeo is sponsored by the Pendleton Round-Up Association and the InterMountain Education Service District (IMESD). Other contributors are Coca Cola, Pendleton Rotary and Walmart.
Every year, nearly 80 volunteers from the IMESD, the Round-Up Association and the Pendleton community work together to make this event a success.
The Exceptional Rodeo was created and produced at rodeos across the United States by Ruth Dismuke Blakeley, who, as a speech pathologist, found that children with disabilities related well to horses. Members of the Professional Rodeo Cowboys Association – in an effort to return to rodeo communities for the support they had always received – joined in her efforts. While Ruth enjoyed her association with the Pendleton Round-Up Exceptional Rodeo, personal scheduling prevented her future involvement. In 1998, the Round-Up Association (which funded the event from the beginning), and the ESD took responsibility for this activity and changed the name to the "Children's Rodeo."
The 40 or so children who participate in the Children's Rodeo are special education students with intellectual or physical disabilities. Each child receives a trophy, T-shirt, lariat, cowboy hat, scarf and a photo with a cowboy or cowgirl.
Activities include riding a horse, riding in a horse-drawn buggy, riding a hand-rocked pretend bull, roping a pretend steer, barrel racing on stick ponies, "milking" a wooden cow and pulling a ribbon off a goat's tail. Children can also enjoy visiting two authentic teepees and playing a Native American drum.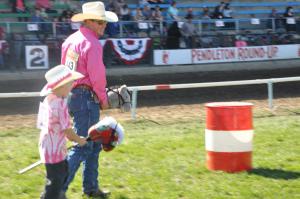 Children's Rodeo Director Karen Parker and Coordinator Linda Smith are very excited to watch these kids experience this sporting event and be a star for the day.
IMESD school districts are encouraged to bring their students to support and cheer on their classmates. Not only will they get to enjoy the Children's Rodeo and the regular rodeo, but they have the opportunity to visit the Indian teepee village and the Hall of Fame.
For more information contact:
Karen Parker, Children's Rodeo Director, 541-966-3177
Linda Smith, Children's Rodeo Coordinator, 541-966-3141
Michele Madril, Director of Communication and Print Solutions, 541-966-3115 (for more information and to schedule interviews)