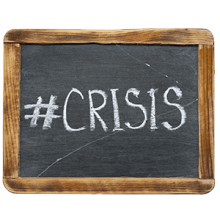 The Crisis Flight Team is a school-based crisis response team. Members of the team are trained volunteers from schools, churches, private organizations, and outside agencies. When a crisis occurs at a school district, the Crisis Flight Team is contacted and a group of volunteers (usually 3 to 5 individuals) is assembled. The team travels to the school/district and works with administrators, staff, and students to help them process their shock and grief in a safe environment with others who are also grieving. A team is typically called upon when there is an accidental death, suicide, or serious injury of a student, teacher, or administrator.
Situations to assist:
Death or serious injury of a student or staff member
A traumatic event or any event which polarizes, isolates, or shocks people, such as the arrest of a staff member
Crisis Response Team assistance often includes:
Crisis management procedural support for building administration

Coping strategy information for building staff

Support Rooms for students and/or staff in crisis

Monitoring and counseling for students/staff in need

Filling in for building staff so they can deal with the crisis

Facilitating community referrals and networking

Assisting with follow-up needs
School administrators can request Crisis Response Team support through IMESD by calling 541-966-3115.
For detailed information about the Crisis Response Team structure, function, and services or if you are interested in becoming a member of the team, please contact the Program Coordinator listed at the bottom of this page.
For additional information, click on the following links:
IMESD Crisis Response Team Flow Chart- for the district point person
After a Suicide: A Toolkit for Schools -pdf booklet by the American Foundation for Suicide Prevention
Memorial Activities at Schools-a list of do's and don'ts after a crisis
IMESD Crisis Response Manual- for district point person and crisis response team members
Community Resources for Students and Families-handout
Mental Health Resources-IMESD mental health web page