ICAN BIKE EVENT IS JUNE 23-28, 2019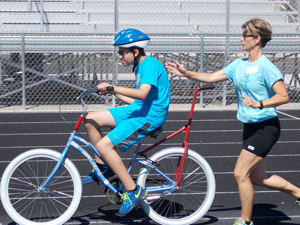 iCan Bike is back in Hermiston for Summer 2019! Dates are June 23 -28 at Armand Larive Middle School.
For more information and to register, please visit the iCan Bike Hermiston website (external link).
Riders and Volunteers are encouraged to REGISTER ONLINE using the above website, but can also use these forms:
Registration is $99, but if a rider has attended before, the fee is $75. Some riderships (scholarships) will be available.
The goal of iCan Bike is to teach individuals with disabilities to ride a conventional two-wheel bicycle and become lifelong independent riders.
iCan Bike™ uses a fleet of adapted bicycles, a specialized instructional program and a trained staff to teach individuals with disabilities how to ride a bike. Riders attend the same 75-minute session each day for five consecutive days (M-F) and are physically assisted and encouraged by two volunteer "spotters". Over 80 percent of riders learn to ride a conventional bicycle independently by the end of camp.
Over the course of the five-day camp the adapted bike is adjusted to gradually introduce more instability in an effort to challenge riders at their own individual pace. The week is concluded with a touching and inspiring awards ceremony!
iCan Bike riders are children ages 8 and up, teens and sometimes adults who have a diagnosed disability. To be eligible to enroll, riders must be at least eight years old, have a disability and be able to walk without an assistive device such as a walker or cane. Riders must be able to side-step quickly to both sides, and must have a minimum inseam measurement of 20 inches and weigh no more than 220 pounds. The camp is open to all individuals who meet registration requirements, regardless of where they live.
Parents, teachers and therapists describe camp results as incredible. Success in learning to ride a bicycle is a major accomplishment--it builds confidence and an improved self-image.
The iCan Bike program is organized by iCan Shine, a nonprofit organization.
Learn more about iCan Bike™ (external link)