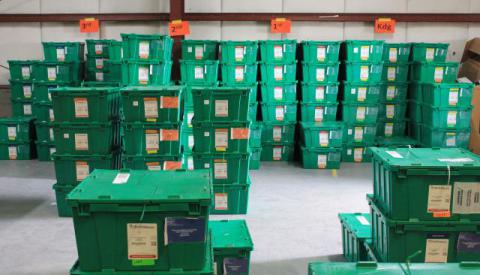 Elementary school teachers have many subjects to cover in their classrooms – reading, writing, math, science, social studies and more. Teaching science is a little easier for some school districts with the Science Kit program from InterMountain ESD.
About a decade ago, the IMESD started offering Science Kits, responding to requests from administration in school districts for a common science curriculum. The IMESD contracted with the company Foss Kits at the time, and roughly half of IMESD's school districts participated. The IMESD, along with many volunteers, was in charge of running the program. Over the years, the program diminished and districts started to lose interest. However, the need for a common science curriculum was still needed. Three years ago, the program was rejuvenated, using a different company, Carolina Biological.
Now, the IMESD serves 14 different districts (21 schools, 206 classrooms) with Science Kits. This results in 600% more kits being sent to districts than a decade ago with the original program.
According to Eric Volger, Director of Instructional Services at the IMESD, this time around there is much more support around the initiative, more professional training, and the interest from teachers is at a high level. While a lot of time and effort goes into making the Science Kits available to the districts, Volger said it is worth it.
Grades K-5 receive three kits per year – in the fall, winter, and spring. These cover three different categories of science: earth science, biology and physical science. The IMESD receives the supplies and curriculum from Carolina Biologics, assembles the kits, rotates the supplies, provides instructions to teachers and delivers everything to the districts. The kits include everything from learning materials to live coupons where teachers can receive things like bugs and beetles. Brandie Baxter, coordinator, said she believes the neat part of the science kits is all the experiences the program offers, especially what the biology category includes.
Each year, the science kits are being refined so the program will continue to grow and succeed. "With a common science curriculum, regional professional development is at a whole new level with providing accurate and consistent professional development," Volger said.