CHRONIC ABSENTEEISM: SPOTLIGHT ON SUNSET ELEMENTARY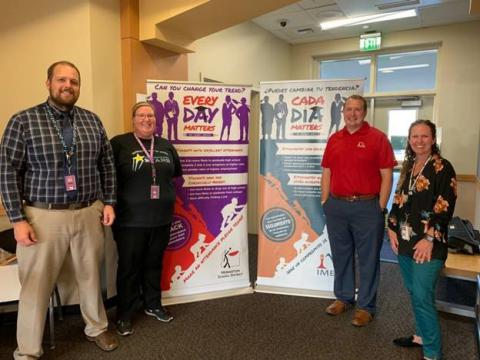 Sunset Elementary had a very successful open house on Wednesday, August 21st. Staff showed up united in their "A community equipping each other for success in our next learning adventure!" shirts. The community showed up in masses with hundreds of visitors. Families got the chance to meet staff, drop off school supplies, meet teachers and check out classrooms. Each family also receive a yellow Every Day Matters wristband and an attendance tracker to help support regular attendance. The Sunset Stars are off to a great start to increase regular attendance for the 2019/2020 school year-Every Day Matters!
Photoed left to right: Jerad Farley: Principal, Nicole Huth: School Counselor, Landon Braden: Regional Chronic Absenteeism Coordinator, Rebecca Bacon: Dean of Students.
Release Date
Tue, 08/27/2019 - 12:00PM
CHRONIC ABSENTEEISM: SPOTLIGHT ON HAWTHORNE MIDDLE/HIGH SCHOOL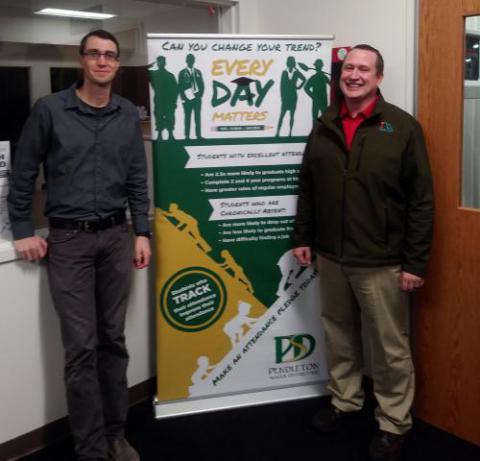 Hawthorne Middle/High school held their community recourse night on January 31st. Parents were invited to come in and talk with various representatives from community partners in Pendleton about available resources. The presenters included CARE Wraparound Services, public health, Conscious Discipline, ASPIRE and Chronic Absenteeism. It was an information packed night with lots of great conversations about connecting families with what they need to work with the school to support students in their education. Parents were given attendance trackers to help track their students' attendance as well as many recourse to help support their children in being regular attenders.
Pictured: Kelly Simpson, Dropout Prevention Coordinator poses with the Regional Chronic Absenteeism Coordinator, Landon Braden, at community night held at Hawthorne Middle/High School in Pendleton.
Release Date
Thu, 02/14/2019 - 12:00PM
CHRONIC ABSENTEEISM: SPOTLIGHT ON CENTRAL ELEMENTARY - LGSD

Central Elementary in La Grande had their first English Language Learner community night. Zanah Larson, LGSD ELL teacher and Ashley Harsin, IMESD Regional EL Specialist coordinated the event to connect La Grande families of ELL students with community resources. Students and their families enjoyed dinner, games and visiting many information booths. Among the booths was attendance info on the importance of regular attendance and possible effects of being "chronically absent". Parents were able to take home resources to help their kids stay on track with being regular attenders.
Release Date
Wed, 02/06/2019 - 12:00PM
CHRONIC ABSENTEEISM: SPOTLIGHT ON HIGHLAND HILLS ELEMENTARY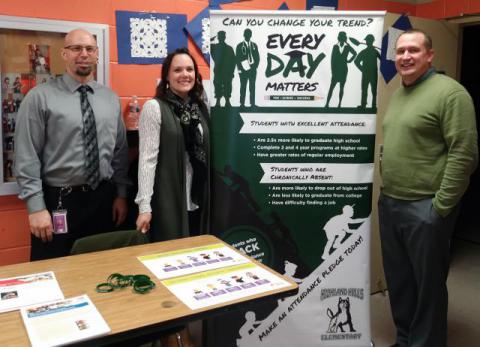 Jake Bacon, principal of Highland Hills Elementary, Erin Lair, Director of Teaching & Learning for IMESD and Landon Braden, Regional Coordinator for Chronic Absenteeism pose at the attendance booth outside the gym of Highland Hills Elementary in Hermiston. They had a blast talking with Parents, students and staff about the importance of regular attendance in school and what it means to be "too sick for school". Students and parents also received resources to help them track attendance in the new year!
Release Date
Tue, 01/29/2019 - 12:00PM
CHRONIC ABSENTEEISM: SPOTLIGHT ON UNION SCHOOL DISTRICT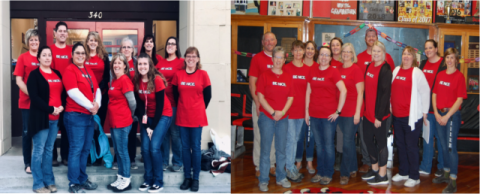 The Union School District has a new campaign to encourage a culture of positivity, respect, and acceptance, no matter the situation. If you travel through Union or visit the school for an event, you may notice students, staff, parents and even business owners supporting this initiative by wearing shirts that say, "Be Nice." The shirts are a representation of the community uniting with the school to show support of this simple, yet effective message to Be Nice and accept everyone, for who they are. The Be Nice message fits perfectly with the district's goal of students, parents, and staff working together to build a solid foundation for lifelong learning. The district is taking these strides to ensure students are responsible, respectful and accepting to one another. This provides a culture where students can maximize their education and benefit fully from everything Union School District has to offer.
Release Date
Tue, 01/22/2019 - 12:00PM
CHRONIC ABSENTEEISM: SPOTLIGHT ON LA GRANDE HIGH SCHOOL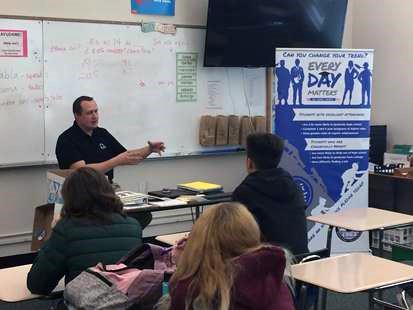 IMESD's Regional Chronic Absenteeism Coordinator works with students from La Grande High School on the importance of attendance. These students are enrolled in Mrs. March's Education 101 course. There were great discussions about benefits of attending school on a regular basis and possible setbacks to being "Chronically Absent". "My students appreciated the visit, and they were surprised to learn that it only takes 18 absences for a students to be considered chronically absent. They were also interested to hear that La Grande HS has a chronic absenteeism rate lower than the state average." - Anne March
Release Date
Tue, 12/18/2018 - 12:00PM
CHRONIC ABSENTEEISM: SPOTLIGHT ON GIB OLINGER ELEMENTARY OF MILTON FREEWATER
November 15th was Math Night at Gib Olinger Elementary in Milton-Freewater. It was a great success with 183 attendees! GREAT WORK GIB OLINGER TEAM!
The students and families had a great evening learning and having fun doing it! Among the many stations was a booth on attendance and chronic absenteeism. Paul Verstraete, State-wide Chronic Absenteeism Coordinator, Liz Durant, Behavior Education Specialist, Ami Muilenburg, Principal, and Landon Braden, Regional Chronic Absenteeism Coordinator all had a great time working with the kids and sharing with the attendees what chronic Absenteeism was and why it is so important to come to school.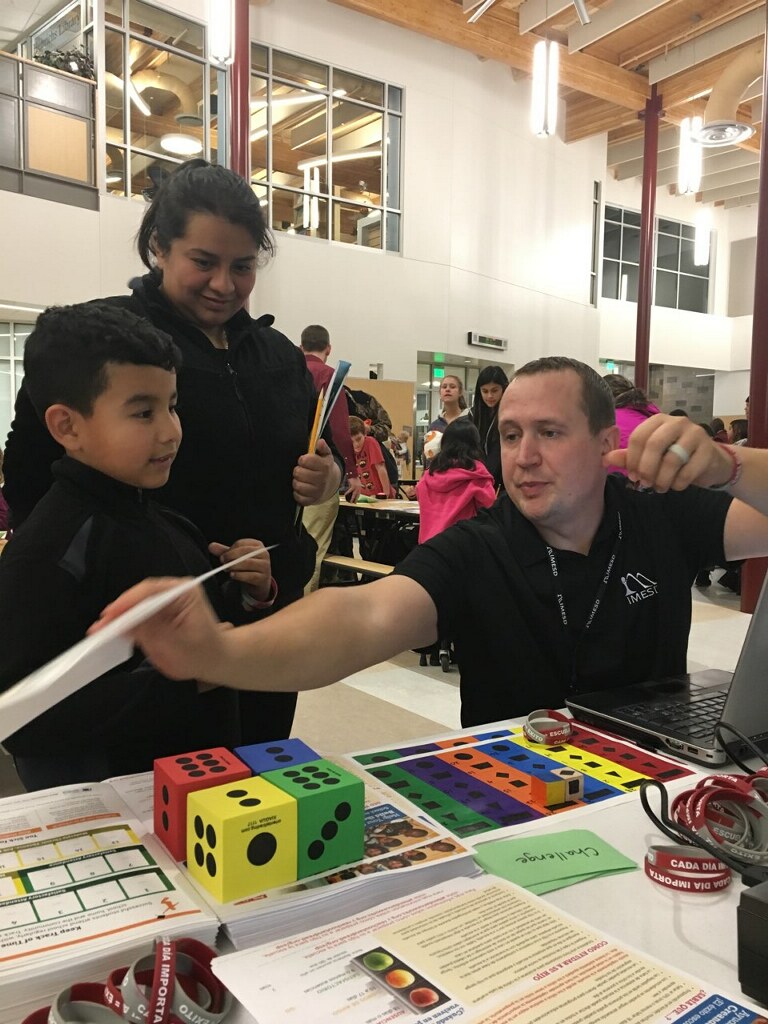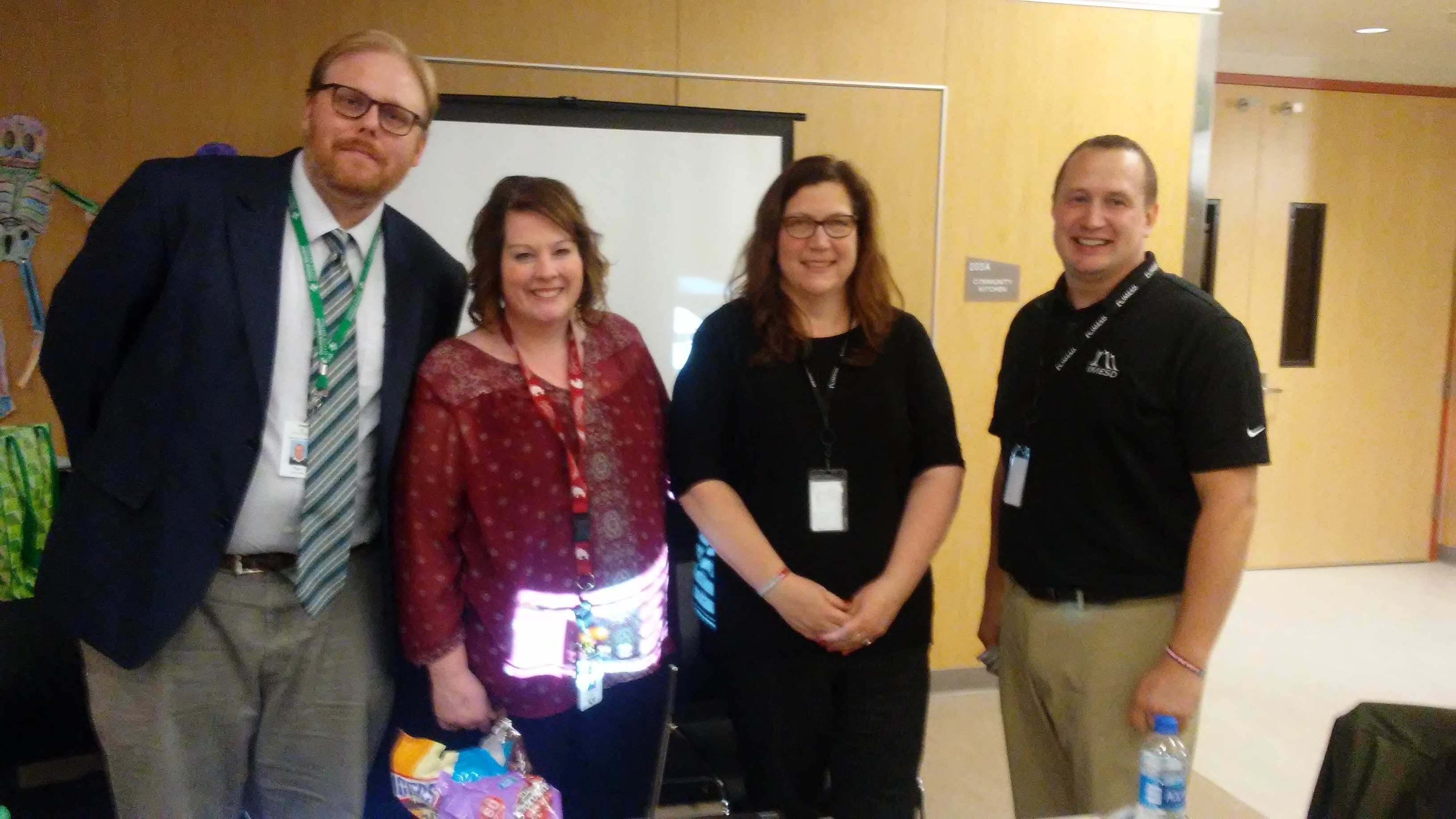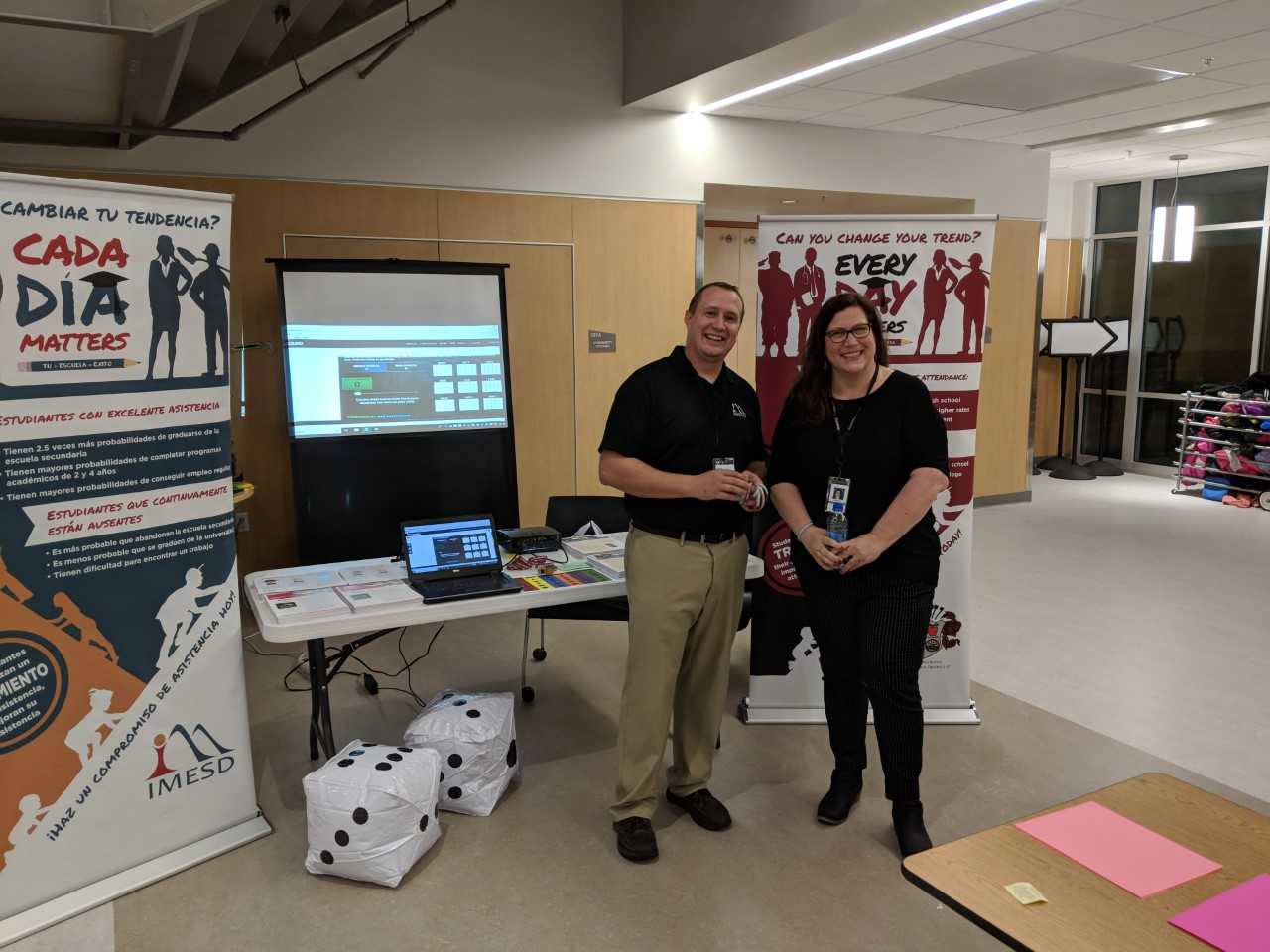 The students had the chance to roll dice and add or multiply the numbers together to get a total to represent potential missed days of school for the year. The kids would then use an interactive tool to slide a bar that showed them the correlation missed school days had on their reading and math scores. Many students and community members were surprised to find out that 18 totals absences during a school year make a student "chronically absent". The attendance booth had many resources for families, students, educators and community members. Among the most popular resources was an attendance tracker to help students track their absences.
Release Date
Tue, 11/20/2018 - 12:00PM
CHRONIC ABSENTEEISM: SPOTLIGHT ON ENTERPRISE

Enterprise Elementary has set goals to assist with improving our attendance rate from 93.15% to 95% We are incorporating many new ideas to assist with motivating students to be on time and ready to learn:
Students receive a red star ticket every morning if they are in their seat and prepared to learn. This ticket is then put into a drawing to win a prize. Examples of past drawings include: a fishing pole, camping gear and outdoor play equipment.
This year we are ramping up our internal systems to bring on mentoring as a way to encourage students to come to school and stay in school. This program is called WATCH D.O.G.S. (Dads of Great Students). We have had 64 dads pledge one full day to come onto our campus and mentor/volunteer with our students. This will result in 544 additional hours of positive adult mentoring. By building positive adult interactions with our students we strongly believe this will assist with all students feeling that they are a part of our school which in turn will encourage students to be at school ready to learn".
Erika Pinkerton, Superintendent/Principal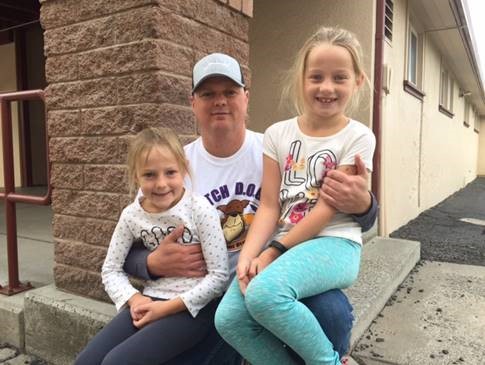 Enterprise School District #21
"The Chronic Absenteeism efforts in Wallowa County have been supported and amplified by the Regional Chronic Absenteeism Coordinator (Landon Braden) working for InterMountain ESD and the Multi-Tiered System of Support Coach (Kayla Hull) working for Wallowa County ESD collaboratively addressing and building resources for Wallowa, Enterprise and Joseph school districts. This combination of support and collaboration is unique but necessary for the students/families in Wallowa County to gain fully the benefits of both initiatives."
Kayla Hull
MTSS/Instructional Coach
Wallowa Region 18 ESD
CHRONIC ABSENTEEISM: SPOTLIGHT ON HERMISTON SCHOOL DISTRICT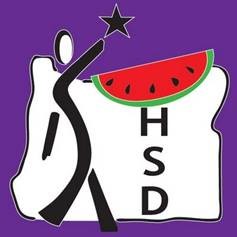 "Hermiston School district has set the goal of increasing attendance by 5% this year. The district will make focused efforts with students who are considered "Chronically Absent". To help with this, the district has assembled an attendance team that will meet throughout the year to evaluate data, implement attendance initiatives and guide the district in meeting their new attendance goal. The team is comprised of the Regional Chronic Absenteeism Coordinator and three administrators, one from Elementary, Middle and High School.
The district has also hired 5 new deans of students that will in part implement the district's attendance initiatives at the building level. Each building will develop their own individual team that will review data as well as report to each of the three administrators on the attendance team.
In the coming weeks, Hermiston will be starting a new attendance initiative that will reward students with one of 9 colored wristbands for improving attendance. The focus, to encourage monthly attendance rates that will lead to overall yearly attendance. To support data tracking, Superintendent Tricia Mooney dedicated funds to add to our student data system to help support staff in tracking student attendance and communication with families. As a district, we are excited to see the remarkable gains in attendance."
Jake Bacon – Principal
Highland Hills Elementary
Hermiston School District 8R
Release Date
Fri, 10/19/2018 - 12:00PM
CHRONIC ABSENTEEISM: SPOTLIGHT ON MAC-HI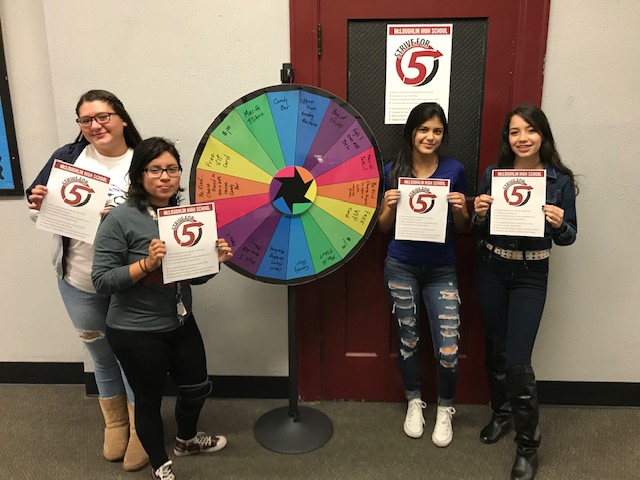 "We recognize the impact attendance has on student performance and graduation. We have rolled out our Strive For 5 attendance initiative to help students focus on improvement, not perfection. Strive for 5 focus on not missing more than 5 school days, excluding school activities. We have presented this campaign locally to our Chamber of Commerce and Kiwanis Club. We are excited to be visiting businesses next week to deliver posters and window decals to start building our community partners in supporting our efforts to focus on attendance. We have already seen an 8% increase in our attendance over this time last year. The prize wheel has helped generate a lot of student excitement and engagement into these new attendance initiatives." --Vice Principal, McLoughlin High School, Jay Rodighiero