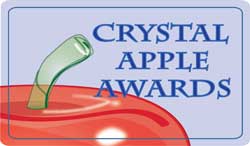 CRYSTAL APPLE AWARDS INFORMATION
Each year, the InterMountain ESD hosts the annual Crystal Apple "Excellence in Education" Awards.
The purpose of these awards is to recognize outstanding individuals in the education field who are dedicated to the success of our students. Exceptional principals, assistant principals, teachers, classroom assistants, office and school staff in our communities deserve recognition and praise for their hard work in schools each and every day. The Crystal Apple Awards are a way to show appreciation to these individuals.
Nominations for the 2023 Crystal Apple Awards will open around February 1, 2023.
Crystal Apple Award ceremonies are held each spring in May. For information about these, please visit the: Award Ceremonies Page
Those eligible to be nominated for a Crystal Apple Award are all employees in any of the IMESD's 18 component school districts in Morrow, Umatilla and Union counties. Nominees can be any full-time or part-time employee who has a cumulative total of regular service of at least one year in their school district. Crystal Apple Awards can be given to principals, assistant principals, teachers, paraeducators, office staff, maintenance staff and other district staff. They can be nominated by administrators, teachers, paraeducators, other school staff, parents or community members.
CRYSTAL APPLE LEADERSHIP AWARD
Prior to 2022, the Crystal Apple Awards included an annual leadership award called the Doug Flatt Memorial Leadership Award, but that award has ended.
The Crystal Apple Leadership Award is a new award intended to honor an exemplary school administrator in an IMESD component school district or at IMESD. Those eligible are superintendents, assistant superintendents, principals, assistant principals or other administrative leaders. The award is open to all school administrators serving in Morrow, Umatilla and Union counties.
The winner of this award will be announced at the Crystal Apple Awards ceremony each spring.
To nominate someone for this award, complete this form and email to edie.allstott@imesd.k12.or.us: Crystal Apple Leadership Award Nomination Form
Lists of past Crystal Apple Winners are available below in PDF format:
Union County Past Winners
InterMountain ESD Past Winners